Heyyo mina, it's Ryuuji Tatsuya and welcome to the first Anime Showdown post of the year!!!
So I actually wanted to post one showdown post which focused on two sports anime, but it was hard coming up with a good theme to clash them head on. I wanted to start the year with something I have been planning to do for a long time and that's exactly why I will be writing this post featuring two really popular sports anime (I have a feeling you would have guessed that without looking at the title).
Today, 'Haikyuu' and 'Kuroko no Basuke' will go against each other in this showdown, the topic will be 'Performance in the Sports Genre'. I always wanted to let these two series, both with great fan following, go head to head and that's why today I decided to let them go all out against each other based on how they performed just as a sports anime. Before we go any further, I just wanna say that both of these series are really really good and the outcome of my post doesn't make them any less great, it's just my personal opinion. So now that the stage is prepared, without any further delay, let's get right into it! (By the way, if you want to check out the other Anime Showdown Posts, then Click here)
HAIKYUU:
Genre: Sports, Comedy, Slice of Life
Ratings: 8.8/10 (IMDb)
8.7/10 (My Anime List)
Pros:
The characters are layered and are looked deep into individually when the correct time comes.
It has some of the most amazing OSTs which combine beautifully with the mood portrayed in the series at that time.
The comedic jabs were frequent, effective and offered comedic relief in really tense situations to let the viewers get more hooked up to the story.
Cons:
The matches didn't follow the same pattern, while some got finished in one episode, some continued for more than 7 episodes.
The art styles were not the best and as a result it might not interest those who are attracted by pretty animations.
The female characters were hardly given any chance to leave a memorable impression. They were just as useful as those characters who were cheering for Karasuno in the 3rd
KUROKO NO BASUKE: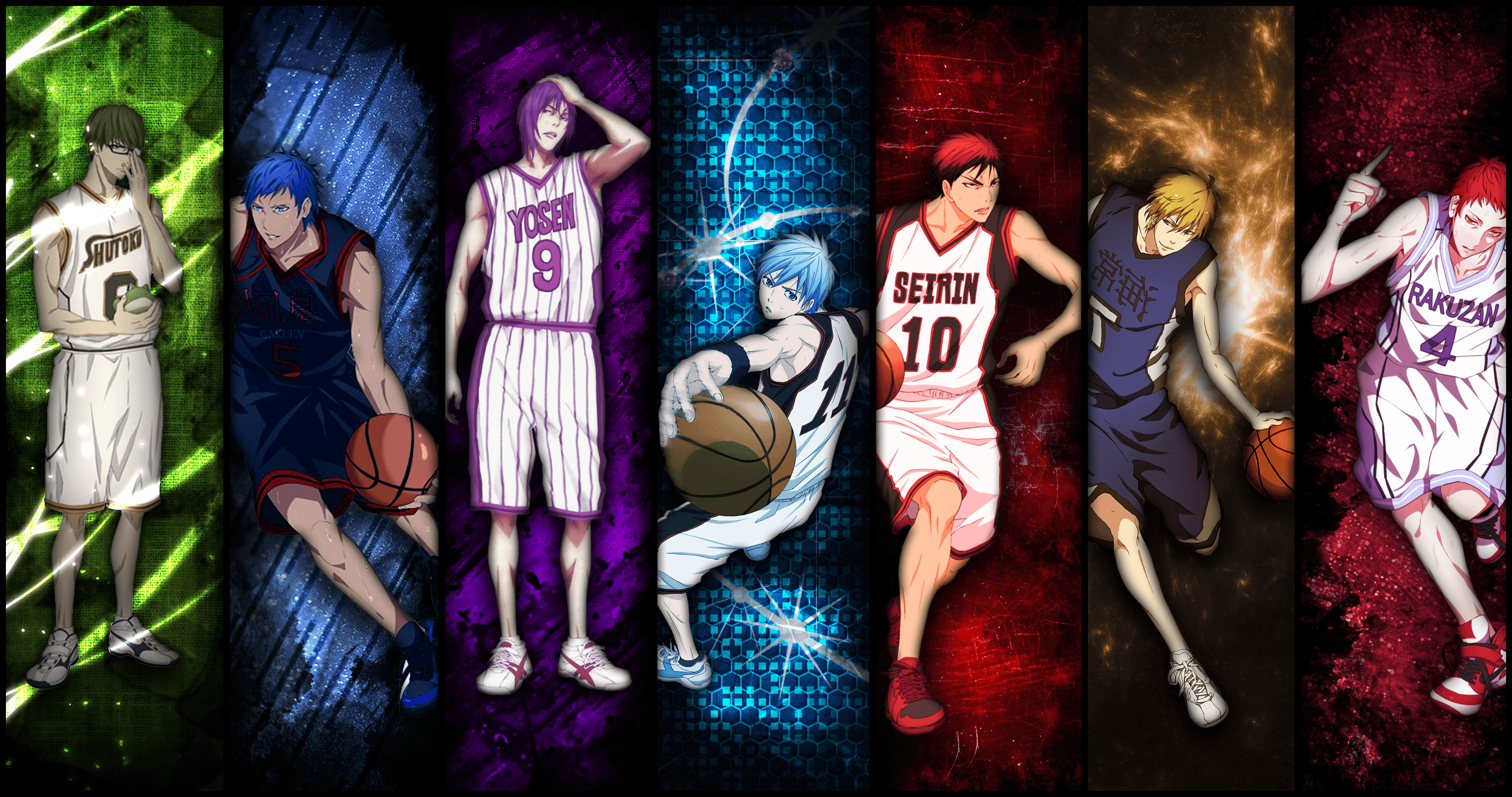 Genre: Sports, Comedy, Slice of Life
Ratings: 8.4/10 (IMDb)
8.4/10 (My Anime List)
Pros:
The Female characters were much more significant as compared to the other series.
The basketball skills shown in this series were overpowered at times, but were electrifying too. Sometimes these scenes are great enough to give you the chills.
The best thing about this series is that it is capable of energizing you at any given moment, thanks to the incredible energy this anime possesses almost all the time.
Cons:
The art, no matter how colourful, wasn't what I wanted. I know it's a bit old, but still I didn't like the art (Especially the character sketch) that much.
Every other team has one over powered character which completely overshadows the other players until they are in frame.
The matches were too long, I know it's a trait in every sports anime but still, it was so long that if you happen to hate one match then you will have to skip almost 8 episodes for it.
SHOWDOWN FACTS:
Both of the series, just like every other sports anime out there, played with the laws of time. Now, I know that they need to slow down to show what everyone is thinking or how the game is progressing in story, but sometimes they just go ballistic in that "Slow down". For example, KnB had some scenes where they took the ball from one side of the court to the other, shoot the ball, got blocked, tried again and scored……. IN ONLY 2 SECONDS!! HOW??? Haikyuu isn't free from these mistakes too as there were times when they showed a ball being juggled between the two sides for like 10 minutes of the episode, and yet they said that it's only been a minute…… IT HAS NOT! That's why none of these two gets marks for this point.
In Haikyuu, Kageyama was the one who had any background in Volleyball in his previous school as Hinata only knew how to jump high (Like really fu*king high). But the accuracy with which both of them were able to synch was unbelievable, since it takes months of strenuous combined practice to reach that feat; Hinata being a beginner just makes it harder. On the other hand, both Kagami and Kuroko had experience in basketball, and Kuroko, being experienced in passing, makes sense that he synched with Kagami really well. So this point of being real goes to KnB.
'The Generation of Miracles', a base used for the amazing story of KnB, that was about to unfold. I agree with the fact that there is a possibility of having a generation of prodigies, and even if it doesn't, there is no rule forbidding the creator from getting imaginative. But the fact is, most of the viewers want to relate to an anime; KnB is just too overpowered for us to relate to it. In comparison, the only thing unbelievable in Haikyuu was the 'Weirdo Quick' used by the main duo; apart from that, there was nothing 'Miraculously unbelievable' in the series. So that's why, this point goes to Haikyuu.
The energy and power showed in the matches of KnB is one of its great plus points. For a series with a 'Okay' level art style, they were pretty good in showing the spirit of a high level basketball game, packed with great game skills, shocking moments and background stories. Haikyuu is also has its moments, but even so, it's more leaned towards the calm and comedic side than the serious and electrifying side, like KnB. That's why this point goes to KnB.
The normal matches showed in Haikyuu were approximately 1-2 episodes long, while those of a little importance lasted 3 episodes and the one with great importance to the story lasted for more than 5 episodes. While compared to that, most of the matches in KnB lasted for a long time; so long that it's in a constant risk of getting dropped by someone who isn't that much interested in watching the series from the beginning. One of the reasons I dropped the series at first was because of the long and pointless matches; that's why, for showing matches before it starts to get boring, Haikyuu gets the point.
In most of the sports anime, the second season is used to show us that the characters as well as the team as a whole is upgrading themselves and preparing for another important tournament (Since they get knocked out in the first series). Haikyuu was great in portraying that as they focused on every individual player trying to make an changes to improve the performance of the team; not to mention, they also gave background stories of some of the characters and introduced some new great characters. In comparison to that, KnB's second season was not satisfying. They did tell us that everyone is practicing, but they didn't bother in digging deep and tell us how the characters are practicing, and what the Not-so-sparkly characters are doing for the team. That's why this point goes to Haikyuu as well.
And so, based on my assessment, Haikyuu wins this Anime Showdown. As I said before, this is just my own opinion and both of these series are great in their own way; they deserve all the fan following they have now.
On that note, this monthly post comes to an end! If you are unhappy with the results and want to defend the losing anime, or if you want to add some more points to the winning anime, then be sure to do so in the comments below! Until next time, I hope you guys have a great time, and as always, thanks for reading!